The Ione School District has narrowed its Superintendent search to four finalists and is inviting district staff and the community to meet them. On Thursday, March 18th from 5:00 to 6:00 PM, there will be a Meet the Candidates gathering at the Ione High School Gym. Each candidate will speak briefly to the entire audience and then be available to meet and answer questions with small groups. Mask wearing and social distancing will be enforced during the event. For information about each candidate, please visit:
https://www.ione.k12.or.us/article/419166
MS Volleyball game @ 4pm will be streamed live on our Facebook page.
MS Volleyball@ Arlington 4pm. The game will be broadcast using following link:
https://youtu.be/oeUa9auc_S8
This is the first broadcast for Arlington, please let me know any feedback for them.
HS Volleyball at Bickleton today will be broad casting on Bickleton Facebook. bickleltonschools.org
Just a reminder as required by our Operational Blue Print, in compliance with the Ready Schools Safe learners, at the end of the day pick up, we ask you wait in or by your vehicle to maintain social distancing, cohort dismissal procedures, and requirements set forth by ODE. This includes waiting by the gate, or on the sidewalk. Thank you for understanding.
Ione elementary would like to celebrate Read Across America Day and Dr. Seuss's birthday on Tuesday, March 2nd with a Pajama/comfy clothes day. (Please no blankets, pillows, or stuffed animals)
MS Volleyball practice starts Tuesday February 23rd MS Football practice starts Wednesday February 24th
Picture Retakes will be March 1st!
Hispanic Club Fundraiser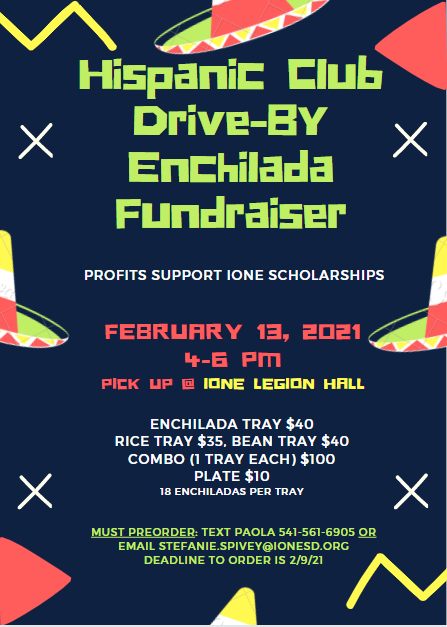 CALENDAR CHANGE FOR FEBRUARY ! February 19th - SCHOOL DAY February 26th - NO SCHOOL
Don't forget there is school tomorrow- Friday, January 22!! It is wear your favorite color day!
PICTURE DAYS! Tuesday January 19th for Grades K-6 ,7, 9 ,10 Wednesday January 20th Grades 8, 11, 12 Packets will be sent home next week. For ordering online the code is - EVTJJBNX8
​PUBLIC NOTICE NOTICE OF BOND FEASIBILITY SUB-COMMITTEE MEETING OF IONE SCHOOL DISTRICT NOTICE IS HEREBY GIVEN that the Ione School District School Board Bond Feasibility Sub Committee will meet on Tuesday, December 22, 2020 at 3:30 pm via Zoom. Here is the Zoom link information: ​
https://imesdmeet.zoom.us/j/93683035190​
On the last day before winter break my teacher gave to me… pajama day for the whole elementary! Thursday, December 17th 12-17-20 Please remember: - No Slippers: Wear regular shoes in case we have outside recess - Choose jammies that are appropriate for cold weather OR wear leggings under your jammies
No school Friday, Nov. 13. We will be doing parent teacher conferences. Please contact the school if you would like to set up an appointment with your students teacher.
VIRTUAL COLLEGE FAIR DAYS Tuesday, Oct. 27th 1:00-5:00 Monday, Nov. 2nd 8:00-12:00 Blue Mountain Community College and 10 other colleges from across Oregon are coming together for you. Participating Colleges include: Eastern Oregon University Boise State University University of Oregon Treasure Valley CC Lane CC Linn Benton CC Oregon State University, and Oregon State CAMP Program Oregon Institute of Technology Western Oregon University Blue Mountain Community College Attend virtually one or both events to learn about programs offered at the colleges, the admissions process, scholarships available, Financial Aid steps , and Financial assistance for undocumented students This event is designed for participants that have questions and need to connect with colleges from across Oregon. All are welcome! College Fair Days Tues, Oct 27 | 1 PM – 5 PM Mon, Nov 2 | 8 AM – Noon RSVP HERE Copyright © 2018 Blue Mountain Community College, All rights reserved. If you have questions about Early College Credit at BMCC, please email us at:
earlycollege@bluecc.edu
Please bring a water bottle each day to school. Water fountains are closed due to requirements from OHA.
Staff, Students, Parents- Ione School District will be applying a herbicide to the grounds October 30 all day for the control of weeds. The herbicide that will be used is T-zone. The EPA registration number is 2217-976. The grounds will be posted with pesticide notification and warning signs after the application is performed
We will post bus times ASAP today. We will also be making calls home with the times. Thank you