Ione School District Registration/Scheduling Any new student to Ione is welcome to register anytime. The office is open Monday- Thursday 8am-3pm. All returning Ione elementary students & 7th/8th graders will receive registration packets the first day of school for updating information. High school registration/ scheduling will be on Thursday August 25, as follows: 1pm- 2pm: 11th-12th grade students 2pm-3pm: 9th -12th grade students If you are unable to attend these times, please contact the office for additional information.
Pool Closure Notice: The pool will be closed Wednesday, 8/3/22 through Sunday, 8/7/22 for Maintenance. The pool will remain closed on Sunday's for the remainder of the season due to staffing shortages. Thank you for your understanding.
Pool Closure Notice: The pool will be closed on Saturday, July 9th. We look forward to seeing you next week!
2022-2023 School calendar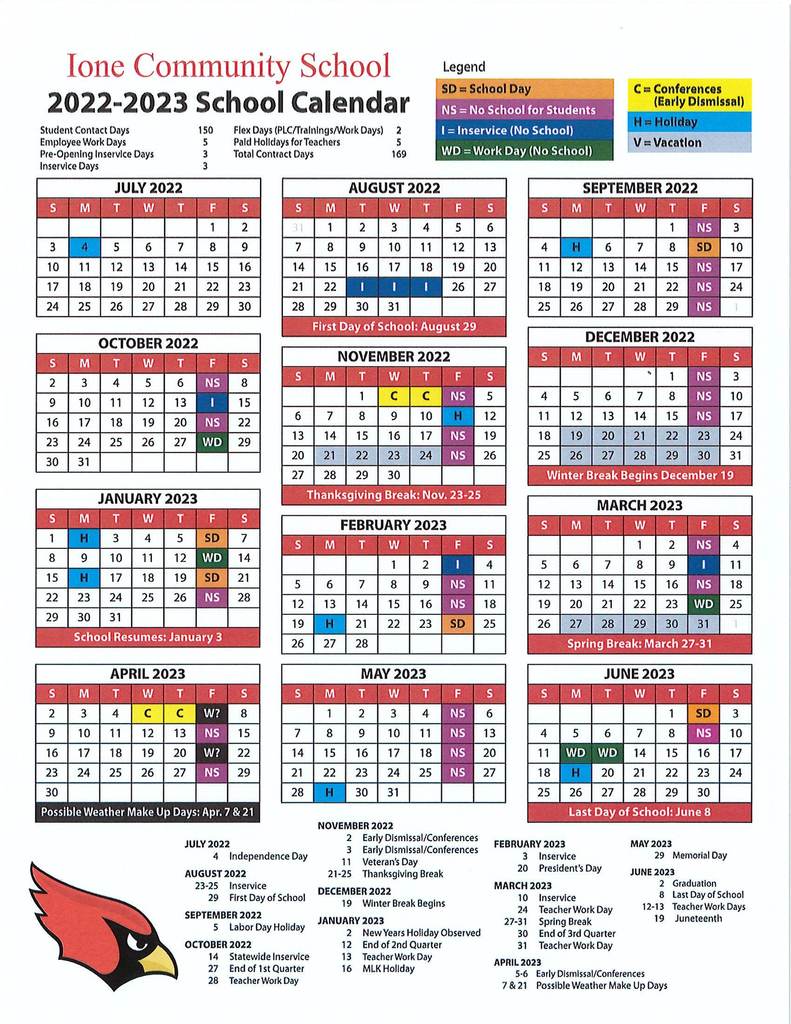 Pool Open
UPDATE: I will be mailing report cards tomorrow 6/14/2022 instead of you picking them up, unless you owe money for books, locks, chargers, shop project etc.. If you do not receive grades in the mail by next week, please come into the office Monday through Thursday from 8am to 3pm through then end of June to pay and pick them up. Senior portfolios are also in the office to be picked up. Office will be closed the month of July! Have a super fun summer!
The pool will open Monday, June 20 due to staffing shortages. Check back often for updates.
*Report cards will be ready to be picked up in the office June 21st. Office hours will be 8am - 3pm Monday through Thursday for the month of June. * Office will be closed the month of July. *Have a great summer and we will see you in the fall with your first day being August 29th. !!
International Club Trip to Europe in 2024! Parents and students, Check out the link below to get information about the International Club trip to Europe in the Spring of 2024. The trip is open to Ione students currently in grades 7-10 (those are grades 9-12 in the 2023-24 school year). This is a wonderful educational experience that students will remember for the rest of their lives!
www.eftours.com/2507726kn
If you have any questions, please call (school-541-422-7131) or email (
school-ryan.rudolf@ionesd.org
) me.
Senior Families: Here is a run down of our busy schedule this week. Please, contact the office if you have any questions!
https://5il.co/1bbhq
Registration is open for the AWS THINK BIG SPACE SUMMER EXPERIENCE for incoming 4th-6th graders in Morrow County! Activities will run June 20th-23rd and 27th-30th from 10am-2pm each day. Each day is designated for particular schools as specified in the registration. Busing and lunch will be provided and it is completely FREE! Registration is limited to 20 students per day, so get registered today by clicking on the link!
https://forms.gle/XSqPxfbdrQs5eG496
Student of the month and Kindergarten graduation will be June 9th @ 8:15am in the elementary gym! * June 10th is students last day for the school year! This day will be early release . School will be dismissed at 12:30pm
Spring sports award assembly for middle school and high school will be Thursday May 26 @ 9:00 am in the elementary gym!
June 1st * Seniors Last Day * HS Awards- 5:30 PM *Baccalaureate- 7PM @ ICC June 3rd * No School * Graduation 7PM
Reminder: Middle School Dance for 6th, 7th, and 8th Graders tonight at the Ione Community School Cafeteria from 8-10 pm.
Middle School Dance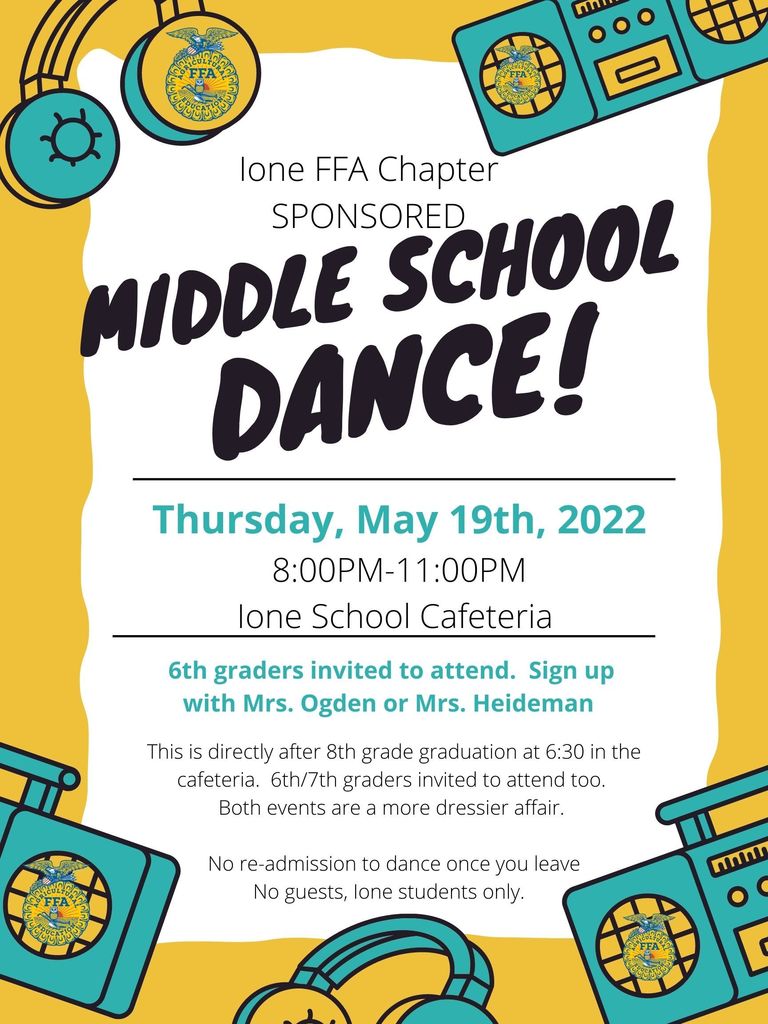 Community meeting to update bond information, Wednesday, May 11 @7pm
Virtual Learning Academy Important Dates: May 16th- 5th Quarter Summer Session Registration Opens May 26th- End Date for Seniors (this will allow for grades to be to districts before graduation) June 1st- Last Day of School for VLA students June 5th & 6th-Grades dispersed to Districts
12th Grade Families: The East Oregonian has requested Senior Photos from us on Monday, May 2nd by noon. If you have a photo you would like us to use other than our school portraits, please send it to
cathy.mccabe@ionesd.org
Thank you for helping us celebrate your senior!