Ione HS Basketball games at South Wasco have been canceled for tomorrow , Friday Jan 21st
Today's home basketball games are cancelled. All other games have been postponed until early February. We look to get an updated schedule out ASAP. Stay tuned, so you can support our student athletes when our games resume. At this time, we will continue practice as scheduled.
Ione HS Basketball Games with Lyle Saturday Jan 22nd have been canceled.
Due to staff shortages we will be executing school on Friday, January 21st, remotely. We will have no staff or students in the building this Friday. Elementary students will take work home with them tomorrow, and Secondary students will be completing Friday's work through Google Classroom. Please, contact our office if you have any questions. Debido a la escasez de personal, estaremos ejecutando la escuela el viernes 21st de enero de forma remota. No tendremos personal ni estudiantes en el edificio este viernes. Los estudiantes de primaria se llevarán el trabajo a casa con ellos mañana, y los estudiantes de secundaria terminarán el trabajo del viernes a través de Google Classroom. Póngase en contacto con nuestra oficina si tiene alguna pregunta.
Ione HS boys basketball practice is canceled today Jan 18, 2022
Ione Middle school basketball will now be hosting Condon Jan 20th at 4PM
The Middle School games have been calceled for this Thursday Jan 20th at Sherman
Game Update: We will not have concessions at today's events. Feel free to bring your own snack or drink. Athletic Update: We will continue to use the same protocol for athletic events. Bottom line, we believe following our plan will keep our student-athletes in school more and on the court longer. We are excited to host our basketball teams today, and we hope to see you there! Be ready to cheer our teams on with a mask unless you are eating or drinking.
Ione school is canceled today, Thursday Jan 6th
Ione School will be on a 3 hour delay tomorrow Thursday, Jan 6th
MS Basketball practice cancelled today Jan 5th HS Basketball practice will be in Ione today Jan 5th
K-6 students will be performing a Christmas program, " Tracking Santa" on Wednesday, Dec. 15th @ 6:00pm. Students need to report to the cafeteria by 5:40pm. The preschool will start the night with a short performance at 6pm. Cookies will be available after the program in the cafeteria!
Christmas Dress up Days Wednesday December 15th - Ugly Sweater Day Thursday December 16th - Pajama Day!
Ione school will be having remote learning on Monday November 22 and November 23. Thanksgiving Break starts on November 24 . Students will return to school on Monday November 29th.
Jostens will be here on November 18th to meet with the Juniors at 8am and the Seniors at 8:30am . Mark will return on December 1st to pick up orders.
MS Basketball practice starts Monday Nov 8th right after school. HS Basketball practice starts Monday Nov 15th right after school.
Watch our Football Team Play!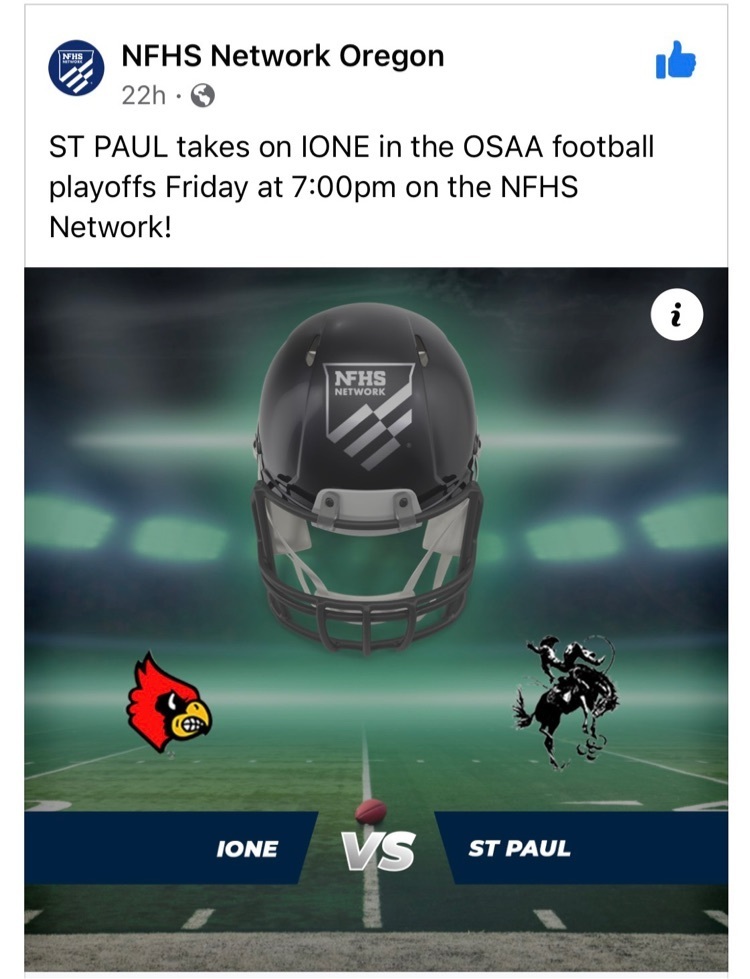 Booster Club will be holding a meeting on Monday November 8th at 6:30pm in the school library. Masks will be required.
Parent teacher conference Thursday Nov. 4, 3:30-7:30 pm Elementary by appointment. Middle and High, drop in conferences Early release on Thursday Nov. 4 @130 pm NO SCHOOL for students On FRIDAY Nov. 5th!
Parents and students are invited to visit the Library November 4th during conferences to visit with the BMCC Student Financial Aid Advisory team. If you are interested in receiving one-on-one support, gathering information, or walking through a FAFSA or Financial Aid tutorial please drop in between the hours of 5:00-7:00. Advisors will be available to answer questions, assist in setting up accounts, and providing any Financial Aid/FAFSA information requested.