8-12 grade students will have a distracted driving presentation presentation tomorrow, 3/13, at 10 am. More information here:
https://www.hangupanddrive.com

Ione school will be holding conferences Wednesday , April 5th and Thursday , April 6th from 1:30pm to 7:00pm. There will be early release on these days at 12:30pm. If you have any questions, please feel free to call the office at 541-422-7131.
Updated Clinic Hours:
https://5il.co/1q7mf
Monday – Thursday 8 am – 5 pm Patient Clinic Days (Monday, Tuesday, & Thursday) Wednesday Morrow County Public Health Department 9 am – 3 pm (office open until 5pm) Monday, Tuesday, Wednesday Community Counseling Solutions 8 am – 3:30 pm
Sophomores and Juniors will be taking the ASVAB, tomorrow, March 1st, at 8:30. This test is encouraged but not required, please contact myself or the front office to opt-out. Thank you!
High School Spring sports are here tomorrow. Track and Tennis will both start tomorrow, and practice will be done at 4:30 tomorrow. Coaches will have more information for all athletes at practice!
Sophomores and Juniors will be taking the ASVAB next Wednesday, March 1st. This test is encouraged but not required. Please contact the office if you have any questions or would like to opt-out of this event. Thank you.
Ione Community School will be on a 3 hour delay today, 2/23/23, due to snow and icy road conditions.
The Ione Community School is aware of regional security precautions taken by schools. We are continuing to monitor this situation with local and regional school districts and law enforcement. Our students and staff are safe, and we will continue to keep our campus safe and secure as we move through the rest of our educational day.
Girl's State BB information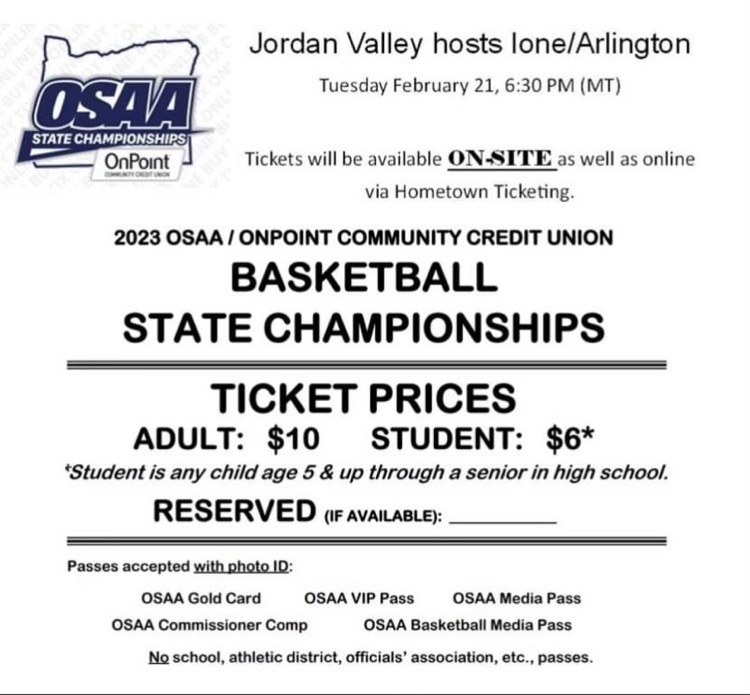 Ione FFA postponing celebrating National FFA week to Feb. 27-Mar. 2 to support our men and women's basketball teams! Go Cardinals!🖤♥️
District Basketball in the Dalles today: Boys @ Noon and Girls right after. Livestream links will be posted on our website under News

*HS Boys will host Dufur in a playoff game Tuesday February 14th at 6:00 PM. The gate cost will be $8.00 for Adults and $5.00 for 12th grade and below. * HS Girls will host Trout Lake in a playoff game Wednesday February 15th at 6:00PM. The gate cost will be $8.00 for Adults and $5.00 for 12th grade and below. *Districts will be held at The Dalles. Time TBD. Cost will be $10.00 for Adults and $6.00 for 12th grade and below. live stream:
https://www.nfhsnetwork.com/schools/ione-high-school-ione-or
MS BBall @ Dufur has been shifted to one gym. B Girls at 3 pm, B Boys at 4 pm, A Girls at 5 pm, and A Boys at 6 pm

High School and Middle School Academic and Attendance awards will be Tuesday, January 31, 2023 at 8am in the High School Gym. All are welcome!

UPDATE: High School JV basketball game tomorrow, January 20th, will now be starting at 5:00 PM instead of 4:30. There will only be a half of boys JV played .

There will be no middle school basketball games on January 23. HS JV Boys only will travel to Heppner on January 23rd. Game time 6PM
High School Basketball hosting Condon this evening. Join us for a game and a meal. JV Boys playing now, Varsity Girls at 6 pm, and Varsity Boys at 7:30.
HS Basketball games, today, 12/21, have been cancelled.